I can't believe the warm response I've had from you guys after my last post about feeling low. I truly believe that honesty is the best policy in regards to depression and other mental 'hiccups' – no one gains a thing by hiding depression. You guys have been overwhelmingly supportive in your comments and emails and tweets, and it really means a lot to me to have such good friends. Even if I haven't met most of you personally, I still feel like we're friends. And it also means a lot to have you share your experiences with depression – talking about it is the first step toward getting better.
So I'm doing a few computer chores, and then I may try to sew, or I may take myself off to the shops to get a bit of fresh air and exercise. Either way, I'm not pushing myself too hard to do anything. I think I may go to the GP next week as well, just to check in, get my thyroid levels done, and talk to her about how I'm feeling.
This week's features are brought to you by my lovely sponsors:
Julie at Intrepid Thread has this beautiful bundle of Pretty Little Things by Dena Designs for only $26.25!! 
Fabricworm is celebrating with 10% off all Westminster/Free Spirit fabrics, including Tula Pink's Nightshade. This lovely bundle is only $21.15 AND if you spend $50 you can get $5 off with code 'oohlala'!
Tara of Happy Momma Quilts made a lovely tote bag using an old sheet – sweet! 
Ellyn of Ellyn's Place made a couple of sweet tote bags using a fabulous tutorial from Pink Penguin – I adore the London fabric!
If you've been featured on SewHappyGeek and want a button for your blog, the code's over there on the right sidebar.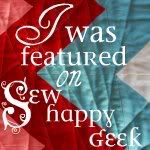 P.S. Because the Google Overlords want to force the entire planet into using their crazy social application, my Google Friend Connect widget has been cancelled. But you can still get me in your Google Reader (or any other reader) by clicking on the Feedburner (RSS) link below.
Subscribe in a reader

© J C Excell, 2012
Declare Your Questionable Taste To Your Friends: