Last night was a whopper. Miss Geek split the top of her thumb open on a knife and it seemed like forever till it stopped bleeding. I was starting to get a little frightened, but then it seemed to calm down enough for us to put a plaster (band-aid) on it.
Problem: We have one plaster in the box, one of those little ones which is only useful for tiny paper cuts. So I drove up to the shop and bought all they had. Which wasn't much, but we got it covered up.
Next Problem: How will she take a shower? Answer: She sat on a stool in the shower and I washed her hair and helped her get clean. Something I haven't done in aaaaages! But we had to protect her tape-and-plaster dressing, so this is what we came up with:
The very latest in shower wear, so you can look like one of the Jackson clan while getting clean! If anyone would like one, they're only £20 each and I'll post it out to you pronto. You don't want to miss out – what if someone saw you in the shower without your Sexy Glove? They'd be all like, 'Oh, well, she can't be that cool if she's not wearing a Sexy Glove' and you'll be all like, 'I promise I've ordered one from Jenna and it will arrive any day! I AM COOL, DAMMIT!'
Ahem. Sorry for that. On with the features!
The most popular ones this week:
You guys seemed well intrigued by Melissa from Love Affair With My Brother's fabric organisation – I wish I had that much room to store fabric!
Regena of The Distracted Domestic made this bra bag out of bra fabric – I love meta-accessories! Please, please, can we have a tutorial Regena? You're so good at sewing, I know it'd be awesome! Seriously guys, go check out her blog!
The always adorable Cindy at Fluffy Sheep Quilting did a post about washing batiks before sewing with them. Looking at what she's got there confirms my suspicion that the US has way better variety than we do here.
And Suburbs Mama wrote a tutorial for an Ipad pouch – I guess I need to get an iPad before I make one. Sigh.
And Pomona of Little Cottage Comforts shared a tutorial for making a basket liner! So cute 🙂
Thank you so much to everyone who linked up! I've got to dash off to an appointment now. If you've been featured and you want a button: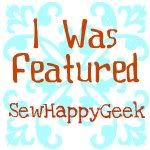 © J C Excell, 2011