Manic Monday Linky Party is still open! 
I'm practically on clouds all day long, every day around here, ever since I finished designing this:
(Oh Yeah. Chicka Chaw. Oh Yeah. Chicka Chaw.) Ahem. Sorry. AND DON'T WORRY! WE DON'T START TILL JANUARY!
So. The design. We'll start off with easier blocks, then progress to the more difficult ones, ending up with paper piecing and dresden blades (which actually aren't as hard as you might think!) So if you're nervous about your piecing and want to pick up some new skills within a supportive environment, head on over to the Sew. Happy. Quilt. Flickr group and start chatting and adding pics! This quilt is great for beginners as it walks you through each technique, and I hope it will appeal to experienced quilters as well with its mix of modern and traditional blocks.
All you need to do to sign up for the QAL is join the Flickr group. There's also a button on the right sidebar for your blog if you want one. 🙂 No pressure!
Anyway, down to business. What do you need to make this quilt?
Ingredients and Fabric Choices: I'd recommend starting with 11 or 12 FQs (total without border). For 4.5″ finished borders, you'll need an ADDITIONAL 1 1/8 yards/1.1m.
My EQ7 software breaks it down like this: Red 5/8yd   Aqua 5/8yd  Grey 5/8  White 7/8yd Border Grey 1 1/8yd – You'll notice that comes to exactly 11 – but the thing is, even if you only need two tiny 4″ squares in a fabric, EQ7 will calculate the fabric yardage at 1/8yd. So you may end up with a bit left over for the back, but at least you know you're totally covered, with plenty of choice.
And if you want white where all the white is on the mock-up, then you just need to make sure you've got 4 FQs/.8metres/7/8yd of white AND around 8 other FQs, with maybe half of them dark and half lighter colours, along with your white.
And please feel free to play with solids/prints. I love solids – they're much cheaper than prints and really look good (IMHO).  Also, please note the 10 – 12 FQs doesn't include the border – you'll need about 1 1/8yd/1metre for that. 
I've also been asked about balancing darks/lights or prints/solids. I'm no expert on colour (See Jeni of In Color Order's Art Of Choosing series), but it's likely that you'll want some contrast, or else the piecing won't show up. I'm using a limited palette for the 2 quilts that I'm making – one with all solids of orange, aqua, grey and maybe a bit of white, and the other with the red, aqua, grey and white as shown.
The quilt measures 36″ x 48″ WITHOUT a border, and it's shown above with a 4″ border around it, making the final measurement 44″ x 56″ – a reasonable lap quilt size. That would require about 1 1/8 yd/1m extra to do that. Also, if you wanted to make a bigger version, you could add sashing, and even duplicate some of the blocks. If you have an idea but you're not sure it'll work, email me: jennaexcell(at)gmail.com and maybe I can mock it up for you on my quilt software.
If you want to do something smaller, you could just do a few of the blocks, or even just do one for a pillow. All are welcome!
Prizes: I'm kinda still lining them up, but I do know for sure that Fat Quarter Shop is sponsoring a $50 gift certificate to a random participant who gets their quilt top done by 18 March 2012. I also have a charm pack from Natasha at Skye Reve Fabrics, and I'll update you when I get the others settled.
Here's the schedule:
Week 1 (Dec 21): Fabric Requirements and Timetable
Week 2 (Dec 28): Sponsor and Giveaway Information
Week 3 (Jan 3): Start QAL with Blocks 1 & 2
Week 4 (Jan 10): Blocks 3 & 4
Week 5 (Jan 17): Block 5
Week 6 (Jan 24): Block 6, Guest Tutorial by Melissa at SewBittersweet Designs
Week 7 (Jan 31): Block 7
Week 8 (Feb 7): Block 8
Week 9 (Feb 14): Block 9
Week 10 (Feb 21): Block 10
Week 11 (Feb 28): Block 11
Week 12 (Mar 6): Block 12
18 March: Last Day To Post Completed Quilt Top Pics in the Sew. Happy. Quilt Flickr Group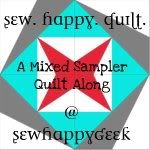 If you have any questions, please email me: jennaexcell(at)gmail.com. Right now in the Flickr group we're chatting about which fabrics we're using – the ladies are so lovely and so much fun. I really hope you'll join us in the New Year with my very first QAL.
If you need to buy fabric, please consider checking out my sponsors, up there on the right sidebar – they've got some fantastic Christmas deals going on right now!
 Subscribe in a reader


P.S. Because I write a non-Blogger blog, I am one of those unfortunates who will lose my Google Friend Connect widget soon. I really value you as a reader and follower, and I'd like to ask you to consider following me on BlogLovin', a free service built specifically for people to follow their favourite blogs, or by Feedburner, which is an RSS feed. Thanks!! 🙂


© J C Excell, 2011