I hope you guys got some sewing in, or at least planned a quilt or something. 😉 We've been going through all our stuff, weeding out what we don't really need. We had planned to wait until after the summer to put the house on the market, and therefore do this clearing out business a little at a time. But we've seen some really lovely, perfect houses that are just within our price range and the moving bug has caught us. We're thinking if we wait, we'll spend even more time…ahem…waiting. So I've ordered a bunch of boxes and we've started looking for a storage locker. In the meantime, I'll be sorting through TONS of books. I think I've already weeded 50 or so and there's still hundreds left. Super fun.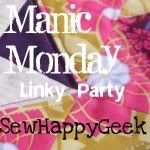 Anyhoo, here's the linky party:
Linky Party Rules:
You can link anything you've created – an etsy shop, blog or tutorial, whatever.
You can leave up to 2 links
Please visit at least one other link and comment!
I'll be featuring a few on the blog on Feature Friday
You are welcome to add my party button to your blog, but you don't have to!
P.S. Because the Google Overlords want to force the entire planet into using their crappy social application, my Google Friend Connect has been cancelled. But you can still get me in your Google Reader (or any other reader) by clicking on the Feedburner (RSS) link below. 🙂
Subscribe in a reader

© J C Excell, 2012