Hey, have you entered Sanourra's Fabric Love Giveaway? There's still time!
And have you read about my
new mini quilt competition, PLAY? Loads of prizes are up for grabs, come on and join us!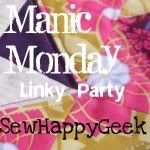 Linky Party Rules:
You can link anything you've created – an etsy shop, blog or tutorial, whatever.
You can leave up to 2 links
Please visit at least one other link and comment!
I'll be featuring a few on the blog on Feature Friday
You are welcome to add my party button to your blog, but you don't have to!
P.S. Because the Google Overlords want to force the entire planet into using their crappy social application, my Google Friend Connect has been cancelled. But you can still get me in your Google Reader (or any other reader) by clicking on the Feedburner (RSS) link below. 🙂
Subscribe in a reader

© J C Excell, 2012