Hello and welcome to my 2nd Quilt Along! I've teamed up with Melissa of SewBitterSweet Designs and we've got a beautiful quilt for you to make. It's my first collaboration design and I'm really pleased with how it turned out.
The woven blocks in the middle are a little more complicated, and we'll be sharing two methods for making them. So you'll be able to experiment and choose which works for you – I pieced mine using traditional methods, and Melissa paper pieced hers. For most of you, this is less of a piecing challenge than a planning challenge, and we will give you the tools you'll need to be able to plan it. That makes it sound really hard, but actually, the hardest bit is choosing which colours go where.
Finished size: 60″ x 60″ without border.
How to Join: All you have to do is head over to Flickr and join the Sew Intertwined QAL Group. We are going to take our time with this QAL, so you will have until September 6th to get your quilt top into the Flickr group to be eligible for prizes. We've listed the prizes we've got lined up so far, but we'll try to add to this as time goes by. Please visit the official QAL page for the prize information.
Fabric Requirements:
I am using all solids for this quilt – two shades each of grey, purple, aqua and orange. My fabric was supplied by the lovely Mandy at Simply Solids – if you're in the UK and need solids, she's got free shipping over £15, plus there's a 10% off discount code too.


You will need: five 2/3 yard/.5m cuts, plus a 1 yard/1 metre cut (mine was the darker aqua) and 2 yds/ 2 metres of background fabric (dark grey in my case). If you want to do the border, you'll need a 1/2yd/.5m cut for that too. You may have a bit of extra background left over, but you can always use that in the back! Binding requires 1/2 yard/.5m.
We have arranged discounts for you at some of our favorite fabric shops!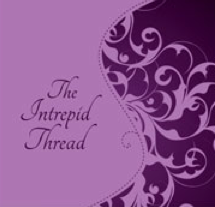 Intrepid Thread – 20% off your fabric – Julie has a custom listing set up for this QAL

Stitches 'N Giggles – 10% off fabrics your fabric with code qal2012 good through July 31st

Contemporary Cloth – 20% off your fabrics with coupon code SewIntertwined
Eclectic Maker (UK)- 10% Discount Code available for one use until 5 August – QALGEEK


Pink Castle Fabrics: 15% off Discount Code – SEWINT15
Quilting Lodge – 20% off your fabrics with code SIQAL20.
Schedule:
16 July: Quilt Design and Requirements – on SewHappyGeek and SewBitterSweet Designs
26 July: Dresden Fan Tutorial by Jen Excell of SewHappyGeek
6 August: Outside blocks tutorial by Melissa of SewBitterSweet Designs
16 August: Woven blocks tutorial. Paper piecing technique by Melissa of SewBitterSweet Designs and traditional piecing technique by Jen of SewHappyGeek
27 August: Joining the blocks by Melissa of SewBitterSweet Designs and border by Jen of SewHappyGeek
6 September: Last day to enter completed quilt top into Flickr group
7 September: Prizes awarded! Yay!
If you want a button for your blog, the code is just over on the right:
If you'd like to receive my blog feed in your Google Reader (or any other reader) just click on the Feedburner (RSS) link below. 🙂
Subscribe in a reader

© J C Excell, 2012