The Sew Intertwined Quilt Along has been created by Jen Excell of SewHappyGeek and Melissa of SewBitterSweet Designs. We collaborated on the design of the quilt, and we really hope you like it as much as we do. We'll be adding images of the quilt that have been tweaked here and there to the Sew Intertwined Flickr group.
Most of the blocks in the quilt are fairly straightforward. However, the woven blocks can be a bit tricky, and we'll be sharing two different techniques (paper piecing and traditional piecing) to make them so you can decide which technique works for you.
How to join: All you have to do is join the Flickr group and get started! The schedule is below – we're doing this QAL at a more relaxed pace, and you'll have until 6 Sept to post pics of your completed quilt top in the Flickr group pool. On average there are 10 days between tutorials to give you plenty of time to piece each section of the quilt.
We've also teamed up with a whole host of fabric retailers to get prizes and great discounts for participants, so be sure to check them out below:

Superior Threads – $30.00 gift certificate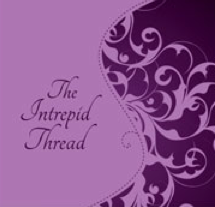 Intrepid Thread – 20% off your fabric – Julie has a custom listing set up for this quilt along!
Stitches 'N Giggles – 10% off fabrics your fabric with code qal2012 good through July 31st and a Riley Blake FQ Chevron bundle

Contemporary Cloth – 20% off your fabrics with coupon code SewIntertwined and a Fat Quarter bundle prize!
Eclectic Maker (UK)- 10% Discount Code QALGEEK until 5 August and Winner's Choice 5 FQ Bundle

Pink Castle Fabrics: 15% off Discount Code SEWINT15
Quilting Lodge – 20% off your fabrics with code SIQAL20. They are also offering a Layer Cake as a prize!
Schedule:
16 July: Quilt Design and Requirements – on SewHappyGeek and SewBitterSweet Designs
17 July: How to plan your quilt, with pdf downloads (SewHappyGeek)
26 July: Dresden Fan Tutorial by Jen Excell of SewHappyGeek
6 August: Outside blocks tutorial by Melissa of SewBitterSweet Designs
16 August: Woven blocks tutorial. Paper piecing technique by Melissa of SewBitterSweet Designs and traditional piecing technique by Jen of SewHappyGeek
27 August: Joining the blocks by Melissa of SewBitterSweet Designs and border by Jen of SewHappyGeek
6 September: Last day to enter completed quilt top into Flickr group
7 September: Prizes awarded! Yay!
If you want a button for your blog, the code is over to the right on the sidebar: