Hey! Stashtacular is coming upon us, so buy your fabric now so you can go on a fabric diet and swap with us for 4 weeks, starting 11 July! You can read all about it here on my Stashtacular page and on the Flickr page. You can swap with the North American swap or the UK/Euro swap! It's gonna be AWESOME!! (Oh yeah, there's a button you can copy too!)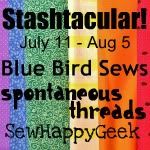 Welcome to the third and final instalment in my Protect Your Blog series. We first focused on protecting your photos, and last week we looked at copyright and your rights. (BTW, I'm not a lawyer, so don't quote me in court, lol!)
Today we'll look at plagiarism and how to find out if you've been ripped off.
There are essentially two ways to determine whether you've been ripped off: the free way and the it-costs-a-bit-of-$ way. I'll tell you about the free way first.
The free way has this much going for it: it's not technically difficult, and it's free which is always good. How do you do it? Well, I'd recommend you look at the page you're checking and choose a couple of sentences out of it. Let me give you an example:
I'm going to check this coffee cup cosy tutorial via Google. But I'm not going to check the intro because that can easily be separated from the rest of the tutorial without looking too weird. So I'll check an essential sentence or two, like this:
Now trim the corners where you've stitched, and gently cut a few small 'V' shaped wedges into the long sides. Don't snip the stitching! We're just making it a little easier to turn!
If someone did steal it, they're pretty likely to be lazy and not rewrite what I've written. So I copied and pasted this quote into Google, and guess what!? I found my tutorial over at whoopdwhoop blog, as well as my own blog. And that's ok, because whoopdwhoop have blanket permission to use whatever tutorial they want from me. The fact that I got this hit tells me that searching by using block quotes is a pretty successful way to check whether I've been copied or not.
So you can copy and paste bits of your tutorials into Google for free. It can only search for 32 words at a time, but don't worry too much about that. You can even draw up a Word-type document with a short paragraph from each of your tutorials or posts so that when you do check, you can just copy and paste from the document instead of opening a million tutorial tabs every time. Every time you add another tutorial, add another short paragraph to the document.
You can then 'schedule' when you're going to check for stolen content – once a week, fortnight or even month. That way you stay on top of things. Of course, this consumes A LOT of time, especially if you're like me and try to publish a tutorial per week.
There's another way to protect your content, and although you have to pay, it's pretty cheap if you do it once a month. Copyscape Premium allows you do do what's called a Batch Search. You plug in your address (http://sewhappygeek.co.uk) and Copyscape looks for other urls within your site. (e.g. sewhappygeek.co.uk/tutorials) When I did a Batch Search today I had 44. Each page costs $.05 to search – So I bought 100 credits for $5.00, and now I have 56 left.
Copyscape uses a complicated search engine algorithm to detect plagiarism, even picking up content which isn't exactly copied, but very, very similar. Like if someone had tried to rewrite it a bit, Copyscape will find it and mark it as possible plagiarism. It takes a few minutes for it to crawl through the entire internet looking for duplicate content, but when it's finished it lists all the other 'suspect' urls, and if you click on it, Copyscape highlights the text that it thinks might be dodgy.
So even if you have a huge site with over 100 additional urls, it would cost $5.00 per month to ensure your peace of mind. (No, I don't get paid by Copyscape in any way.) If you are like me and have lots of tutorials, then a couple of dollars per month is probably worth it. No more Googling for 2 hours at a time! Copyscape also has a limited free service so you can try it out. (And they have free banners for your blog!)
There are similar services out there that aren't too expensive, like PlagAware. Plagiarism Direct also has a FREE service, though it only allows searches of 100 words at a time, instead of the whole page. The minimum they charge for proper protection is $5 per month, which if you're a small site (like me), that's twice what I pay Copyscape!
If you have just a handful of tutorials, you'll probably be fine using the free Google way. Once you get above 15 or 20, you should probably start thinking about engaging a paid service to do all that dull work for you. Think of it this way: your tutorials are products of your own labour and materials. They belong to you. Making sure they stay that way benefits you in a variety of ways: your 'real' site doesn't get punished for duplicate content, and readers who want to use your tutorial will always have to come to the correct source to view it. All that is definitely worth $3 per month, don't you think?
If anyone has questions, please email me at jenna (at) sewhappygeek.co.uk and I will try to help you as much as I can!

© Copyright J C Excell, 2011. You are welcome to use any SewHappyGeek tutorial for personal use, but you are not given permission to use my pictures or my words without giving me credit and linking back to the original. Sometimes my pictures have my family in them and they are never intended for public use. Also, I work very hard to provide free tutorials for my lovely readers, and anyone copying or selling my tutorials is guilty of copyright infringement.