Hey, have you guys checked out the Stashtacular page yet? We have tons of stuff going on from 11 July – 5 Aug. Kelly of Blue Bird Sews and Stephanie of Spontaneous Threads and I are sewing up tons of tutorials for you. And don't forget the giveaways! Jelly Rolls from Fat Quarter Shop, $25 gift certificates to 1Choice4Quilting – plus a big pile of handmade goods from the 3 of us gals.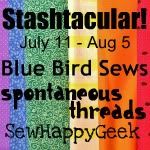 There's a fabric swap – whether you live in US/Canada or UK/EU, you can swap. Anything bigger than 4″ x 4″ welcome! I have a TON of fabric (mostly 'vintage' Amy Butler) that I would like to swap for something I'll actually use…
Anyway, go to the Stashtacular page, and make sure you check out the Flickr page as well, to take the fabric diet pledge and join in the fun!
On a completely different subject, I'll be sending out Mug Rug Swap v.2 information to those of you who signed up. I'm hoping to have them to you in the next couple of days, if not today. So here's a little mug rug inspiration I put together while browsing through Flickr for ideas:
1. Mug Rug , 2. Mug Rug for me?, 3. mug rug 4 received, 4. mug rug pair, 5. Mug rug, 6. Scrappy Mug Rug Swap #4, 7. Mug rug swap, 8. Finished Mug Rug, 9. Mug Rug from Quiltinkimmie, 10. Mug Rug, 11. Mug Rug Swap, 12. mug rug received


© J C Excell, 2011