PSST…Did you sign up for my wee giveaway? You still can!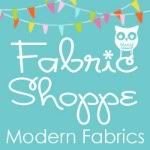 Well, kinda. Jody from Fabric Shoppe sent me a lovely Tanya Whelan fabric bundle a while ago, and I've designed and finished a baby quilt using it. I'll post the tutorial for it after the last QAL tutorial is up, so don't worry, you'll get to see it! But I used the leftovers yesterday to make a quick little placemat/mug rug type thing to try out my new free motion bobbin holder.
You see, not long ago I bought a Janome Horizon. And Oh. My. God. it is amazing. But when I tried to free motion quilt with it, the thread kept shredding (and thus breaking) and really made things look nasty. I had to start and stop so many times on a pillow front that I was nearly in tears over it. I asked for Melissa's help and she had some good suggestions, and then when I did some research I found that I wasn't the only person to have this problem with a Janome Horizon.
Then I stumbled upon a reference to a free motion bobbin holder, and using Topstitch needles (which have bigger holes). So yesterday my new bobbin holder came, and I whipped up a quick mug rug thingy to try things out. And what do you know? Instead of breaking every 50 stitches, it only broke about 3 times – I am definitely making progress! Even the back looks good:
Seriously, I can't tell you what a big deal this is. We spend SO much money on the machine, and to be unable to FMQ on it was making me feel like either I am a complete dunce or we'd wasted a bunch of money. But I think things are going in the right direction (???).
The most popular link this week was from the Celtic Thistle, who made this glorious Courthouse Steps cushion:
using the pattern from my friend and bee mate Katy's Foundation Paper Piecing For The Terrified Series, which I really recommend looking at if you're still feeling inadequate around Foundation/Paper piecing. It looks like it'll be a very helpful series – well done Katy!
If either of you want a Featured button, they're on the right sidebar. 🙂
 Subscribe in a reader