Suzy of Suzy's Sitcom sent me a free copy of her new ebook, Suzy's Majestic Peacock Pattern. I meant to review it over a month ago, but what with the limited internet in Texas and me injuring myself and all, I'm just now getting to it. (Sorry, Suzy!!)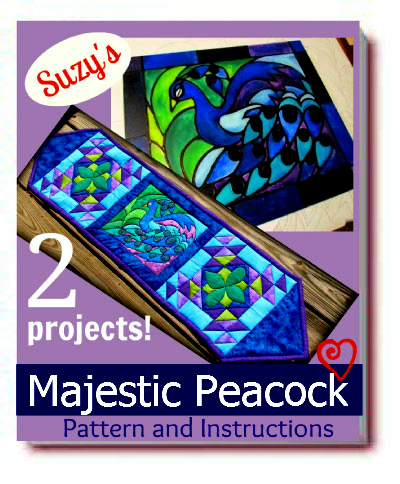 I'll tell you what I really like about this ebook – both projects are meticulously explained, in super easy steps that even I could follow. And I've never actually tried to make faux stained glass or my own batik fabric. Suzy is a SUPER talented gal whose drawing and crafting skills are really impressive, so the peacock template is absolutely fantastic. You get both patterns and the template for only $10, which is a great deal considering you can use the peacock techniques for other crafts – she's even included suggestions!
The Faux Stained Glass Peacock is laid out in simple, well written steps. Best of all, she's even got instructions in there for what to do when your hand is a bit shaky and your lines don't come out completely perfect. I don't know about you, but I'm not good at drawing of any kind, so I really appreciate the extra help. Once you've drawn your 'leaded' part and it's dried, painting it in is a cinch! And again, if you mess up she's got instructions for how to touch it up.
Once you're finished you'll be very impressed with the results – there's really no way to mess this up with all the helpful tips for dealing with any boo-boos. Plus everyone who spots it in your house will be all like, 'You made that?! WOW!' which is the whole point of crafting, right? 😉
The batik panel is just as easy to make – you just use melted crayons! All you do is trace the outline in pencil and off you go. And her piecing instructions are suitable for someone who's relatively new to quilting. And even if you're new to piecing and quilting, she includes really useful links for tutorials to help you.
Each step is well photographed and really, you just cannot go wrong unless you spilled the crayon paint everywhere. It's kinda like a paint by numbers except you get to choose the colours and where they go. The applique technique is well explained and easy to follow, and even the binding is explained thoroughly with extra tutorial links if you need them.
You'll be very pleased with the ebook and the projects – they're not incredibly complicated, especially the Faux Stained Glass, and you'll make items that you'll be very proud of. They'd make excellent gifts, but if you're like me, you'll want to hang onto them yourself.
Suzy's Majestic Peacock Pattern is available on her website for immediate download for $10.
All images courtesy of Suzy Myers of Suzy's Sitcom.
If you'd like to receive my blog feed in your Google Reader (or any other reader) just click on the Feedburner (RSS) link below. 🙂
Subscribe in a reader

© J C Excell, 2012