Woohoo! It's arrived, finally!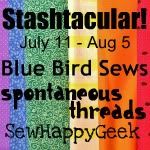 My friend Kelly from Blue Bird Sews publishes
her tutorial on baby onesies
today to kick off Stashtacular! And don't forget
to enter to win a $25 gift certificate
to
1Choice4Quilting
too! Yep, all for you!
And tutorials to follow tomorrow AND Wednesday
– you lucky thing, you!
If you'd like to leave your link, here are the rules:
You can link anything you've created – an etsy shop, blog or tutorial, whatever.
You can leave up to 2 links
Please visit at least one other link and comment!
I'll be featuring a few on the blog on Feature Friday
You are welcome to add my party button to your blog, but you don't have to!
I'd also like to ask you a question. I'm thinking about hosting a quilting bee, Sew Bee Blissful. It would be for a year, so I'd need 10-11 totally dependable people to do it with me. Is anyone interested? I'd like to donate my month's quilt to Linus Quilts, a UK charity which provides donated quilts to kids who've had bad injuries, but donation to charity isn't mandatory. I just thought maybe others would like to help me make a charity quilt. 🙂 Someday I hope to do an international charity bee, but I need to do more research and make more contacts, I think.
Anyway, if you'd like more info, visit the Sew Bee Blissful Flickr page, or email me at jenna (at) sewhappygeek.co.uk
Now go get in on that 1Choice4Quilting giveaway!


© J C Excell, 2011