Welcome to Stashtacular! We're on a fabric diet, and are gearing up to swap our old fabrics for new!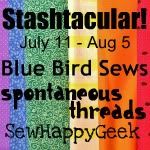 If you'd like the tutorial for my Sweet Baby Dreams quilt,
you can click here to access it.
  It's a super easy quilt to piece, perfect for the beginner, or really quick for the more experienced. The reason I've done it as a Google document is so you can print it if you want to.  If you make a quilt top before 5 August,
add it to the Flickr group
to be entered to win lots of grand prizes.
Please go sign up for this week's giveaway of a $25 gift certificate for free fabric from 1Choice4Quilting over at Blue Bird Sews who is hosting this week's Stashtacular celebrations!
And don't forget, you need to be thinking about whether you'd like to join my new virtual quilting bee, Sew Bee Blissful. It's ok if you're a bee beginner; we'll all be friendly and helpful, even if you're a bit scared of quilting!

© J C Excell, 2011