Today's Stashtacular! post is up over at Kelly's Blue Bird Sews. It's the story of how we ended up creating this stash celebrating event. I must admit much of the creativity of it and most of the good ideas come from Kelly.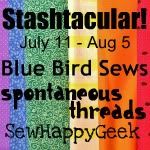 (p.s. In her post she lists the giveaway prize as a $25 gift certificate from
1Choice4Quilting,
but I messed up so it's actually a jelly roll from
Fat Quarter Shop
. Next week's is the $25 over at Spontaneous Threads. SORRY!)
The giveaway is still open here, so get in on it!
And my lovely Sew Bee Joyful quilting bee still has a few openings. You can read the info on the Flickr group's page.
Tomorrow's post will be late. My parents are coming over from Texas and we have to entertain them, but I promise I'll get it done, even if it's on Saturday morning!

© J C Excell, 2011