************Giveaways are all closed – Congratulations to Laurie and Binks who were the Sew Mama Sew Winners!*******
Hey, don't forget to enter my Welcome: Simply Solids Giveaway!and the Blog Hop Giveaway for even more chances to win fabulous fabric! And you can leave a link on Manic Monday Linky Party!
Hi! I'd like to welcome you to my website and blog, SewHappyGeek. I hope you end up staying a while – if you're looking for a project, check out my Tutorials page. I'll also be offering the Sew. Happy. Quilt. QAL which will kick off in January and will finish with some fabulous prizes for random participants who finish their quilt top! If you've never made a quilt before but would like to, this is the QAL for you! We start off easy and slowly work our way to more difficult techniques – you can totally do it!
I've got TWO items to give away today – the first is an apron I made using my Pleated Hostess Apron Tutorial:
Also, I have a few sponsors, one of whom was generous enough to give me some goodies to give away in the Sew Mama Sew Giveaway! Julie from Intrepid Thread is such a lovely lady to work with – she's super busy giving everyone great deals on fabric but she always makes time to answer my dumb questions.
I don't know if you're familiar with The Intrepid Thread, but Julie has some of the very best deals on fabric that I've ever seen. She's got super fat quarter bundles, including Rendezvous (my personal favourite), Lark by Amy Butler, Flora by Lauren and Jessi Jung and Happiness by Katy Davis.
And to carry on with our Aqua theme, she very generously gave me an Art Gallery Elements Fat Quarter Bundle to give away: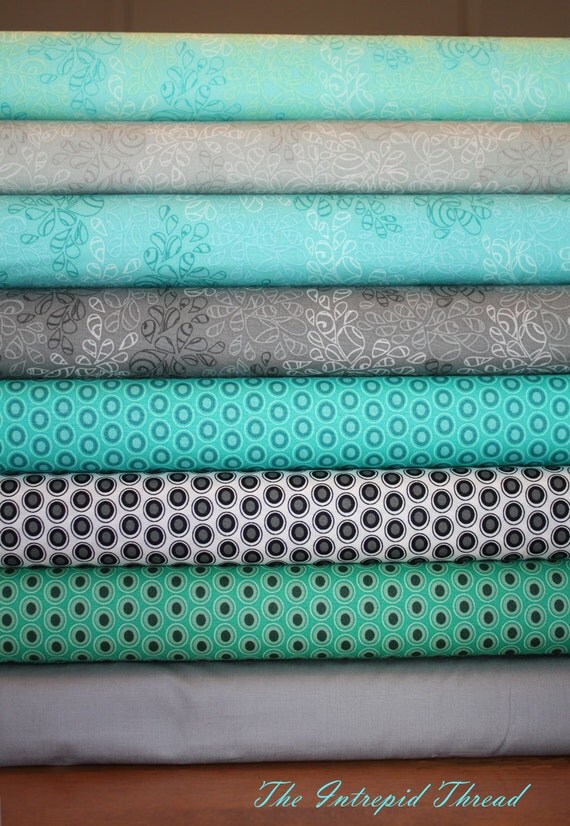 This giveaway is open internationally so all can enter. In accordance with the Sew, Mama, Sew rules this giveaway will be open till 16 Dec and the winner will be chosen by my And The Winner Is…plug-in. I'll email the winner and also announce it on the blog.
Here's how to enter:
Leave me a comment telling me what you'd do with this FQ bundle – quilt, tote bag, skirt, wacky men's suit?
If you're a follower, leave me an additional comment letting me know.
If you're a follower of Julie's Intrepid Thread blog, let me know.
That's it! Have fun perusing all the other giveaways!
P.S. Because I write a non-Blogger blog, I am one of those unfortunates who will lose my Google Friend Connect widget soon. I really value you as a reader and follower, and I'd like to ask you to consider following me on BlogLovin', a free service built specifically for people to follow their favourite blogs, or by Feedburner, which is an RSS feed. Thanks!! 🙂
 Subscribe in a reader