Hello! The random ramblings about ACM/CMS are below. I didn't want anyone who wasn't interested in it to have to wade through it to see the features.
Also, have you signed up for my giveaway? Please do so now! 🙂
Today's feature is from a new blogger, Mareenchen of Aquamareen, who is also hosting a giveaway! So get on over there if you'd like a chance to win a handmade cushion cover:
And if you're in the mood to shop a little or would like to find a sewing class near you, you should totally check The Sewing Directory! Fiona has How-To Guides, Project links, and even book & crafty reviews to help you with your crafting!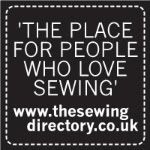 And if you're looking for a good deal on pre-cuts or batiks or yardage, Sanourra's Fabric Love has some brilliant deals!
Sanourra's Fabric Love has Moda jelly rolls for only $35!  Go grab yourself a bargain today!
I don't really like to say negative things on my blog – I don't mind criticizing myself, or sharing my experiences with you guys (be they good or bad), but it seems so unprofessional to be negative about others. I had a go at Moda Bake Shop once for ignoring a project proposal, and wasn't surprised to find that others had had the same experience. But by far the biggest complaint I've ever made on this blog was about All Craft Media, a company run by Kerrie Allman née Rycroft, whose magazine (Modern Quilting) commissioned me to write a tote bag pattern which was published but never paid for.
A few hours after I published my post, All Craft Media went into administration, which is a fancy way to say they went bankrupt. (BTW, it had nothing to do with my post!) I've got contacts who have contacts, and I managed to get a copy of the administrator's first report. The bottom line is that in less than a year, ACM was in debt to the tune of £175,000. Lots of info is also available on Ravelry but you have to have a free account (which you should totally do because Rav is AWESOME!).
A bunch of stuff happened involving the magazines, and the fabric titles were bought by Craft Magazine Shop (whose website seems to have been suspended by Nominet), a new company allegedly run by a guy named Derek Barnes. Some other stuff happened, and it began to look like Craft Magazine Shop was the new incarnation of All Craft Media. I won't repost the evidence here, because my friend Fiona of The Sewing Directory has done a brilliant job covering the story. So you should totally read her post. I'd say the salient point is the fact that the Craft Magazine Shop website was purchased by All Craft Media a week after they were in administration (they should have legally stopped trading the day the administrators came in and shut it down.)
In the interests of being open, I need to tell you I was contacted recently by the new editor of Modern Quilting Magazine, who signed herself Jenn Smith-Clarke. She offered to republish my pattern (I have full copyright rights now that ACM is defunct) for the original fee in something referred to as a 'bookazine'. I considered how to reply for about a week, but eventually wrote back saying no thanks. Let me be CLEAR: My struggle wasn't whether to say yes or no, as I suspected who was really behind things as soon as I saw the email. My struggle was in forming a clear, professional response which firmly and politely declined the (re)commission to Kerrie or Jenn or Derek or whoever.
Given that the Craft Magazine Shop website has been suspended (today?), and that there's nothing on the website of Simply Sewing Magazine (the new name of Sew Hip) despite some attempts at promoting it, I'm wondering if there's much of a future for Craft Magazine Shop. It's strange how Kerrie has publicly stated she has nothing to do with the magazines anymore, yet she registered the Simply Sewing Magazine website in her maiden name.  Again, Fiona at The Sewing Directory has also written about this issue. 
So will Craft Magazine Shop continue to trade? It's possible, even probable in my opinion. Have I any right to tell you to boycott the magazines and to suggest that you don't do projects for them? No. I don't. What I will say is this: If you decide to do a project for CMS (or anyone else for that matter), and you're not sure about the terms in the contract, contact someone in the blogosphere who has had an article or project published and get their advice. Heck, you can even email it to me if you like: sewhappygeek (at) gmail.com. I'm not a lawyer, but I don't mind looking over it for you. If you know someone in the legal world, that's even better.
I'm not angry any more. I was, but I got my copyright rights back without having to do much and my tote bag eventually made its way back home too. I think if I had to describe my feeling about this whole KAL/ACM/CMS saga, I'd use the word draining. I stopped keeping up with the Rav boards, mostly because I had surgery and have felt like crap. (As stated earlier on the blog – the kind of bad news I don't really mind being honest about.) But I wanted to put the information out there in case it helps anyone.
P.S. Because the Google Overlords want to force the entire planet into using their crazy social application, my Google Friend Connect widget has been cancelled. But you can still get me in your Google Reader (or any other reader) by clicking on the Feedburner (RSS) link below. 🙂
Subscribe in a reader

© J C Excell, 2012